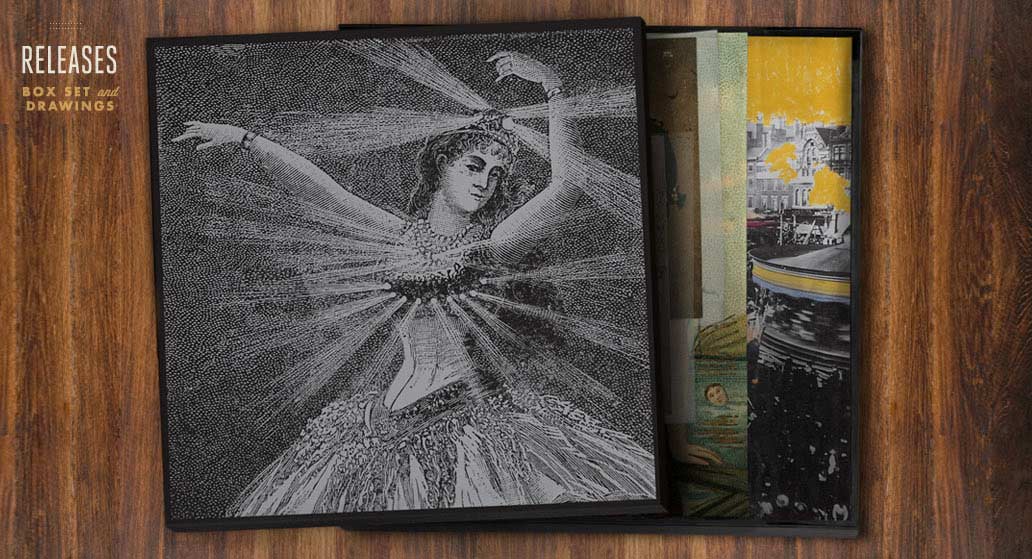 Con la reciente popularidad que ha tenido Jeff Magnum, sea por sus recientes presentaciones en vivo sea bajo cuerdas o sea entre las bandas indies más nuevas o conocidas, y con todas las publicaciones importantes dándole al álbum
"In the Aeroplane Over The Sea"
grandes alabanzas; no es de extrañar que un relanzamiento del material hecho por una banda como Neutral Milk Hotel estuviese en listas como uno de los mejores
Reissues
que tendrá el 2012. Pero el
Box Set
no sólo cuenta con los dos LP que grabó la banda en los noventas y su EP y Single, sino que adicionalmente tiene 15 rarezas que jamás habían sido realizadas en físico.
Para aquellos que no han conocido la trayectoria de la banda o que sólo conocen "In the Aeroplane Over The Sea" el Box Set es una oportunidad para adentrarse en la historia de una de las bandas que más contribuyó para colocar en el mapa al indie, pues Neutral Milk Hotel ha formado parte de disqueras importantes como Merge y su líder formó parte fundamental del Colectivo Elephan 6 (compuesto por Neutral Milk Hotel, The Apples In Stereo, The Olivia Tremor Control y Of Montral), la colaboración del colectivo contribuyó a nuevos sonidos y nuevas formas de contar historias. Tal es el caso de álbums como "In the Aeroplane Over The Sea" cuyo modelo luego fue recreado por bandas como The Decemberist, Titus Andronicus, There Will Be Fireworks y muchas otras, que es el tipo de álbum que cuenta una historia continua sin separación de canción a canción pero con una estructura musical que tiende hacia los sonidos orgánicos del rock y el folk.
El Box Set está compuesto en principio por el primer EP de Neutral Milk Hotel "Everything Is" grabado en Lo-Fi con una producción de sonidos bastante saturados pero con voz inteligible; dada la reciente moda del Lo-Fi escuchar grabaciones como esta no sólo causa nostalgia por los noventas, sino que muestra cómo aveces lo nebuloso y el eco agregado a las voces para que suene psicodélico no siempre le aporta calidad a la música sino que la ahoga en adornos, en parte la belleza de la grabación de baja calidad es su simplicidad.
Para aquellos que no sabían que Neutral Milk Hotel tenía otro material grabado aparte del alabado por la crítica, el Box Set da la oportunidad de pasearte por el primer LP de la banda "On Avery Island" de 1996 que tiene un sonido mucho más ambicioso y a ruidoso que la canción promedio de "In the Aeroplane Over The Sea", pero con el distintivo sonido de la la banda y la temblorosa voz de Magnum detrás de la instrumentación. En "On Avery Island" canciones como Pree-Sisters Swallowing a Donkey's Eye coquetea con experimentación de sonidos psicodélicos y el lado instrumental de la banda, pero el sonido clásico del rock, de sonidos ambiciosos como el intentado por artistas en la era de Phill Spector se alza también más claramente en canciones como "Song Against Sex", pero canciones lentas y llenas de sentimiento casi no están presentes en el primer LP de la banda "A Baby for Pree" son las que se acercan a ser prólogo de las canciones mejor articuladas.
También rarezas sueltas como Little Birds, canción que era conocida por los que iban a conciertos pero el público no había tenido acceso a tan alto nivel muestra la madurez de composición de Magnum y su capacidad de contar historias involucrándola con la música de forma envolvente cual trovador contando las aventuras de algún personaje.
Si te gusta Beirut, The Decemberist, The New Pornographer, Destroyer, Beck, Pavement, Broken Social Scene, etc., recomiendo que te pasees por la discografía de Neutral Milk Hotel compilada en este
Box Set.
Tracklist:
Everything Is:
1. Everything Is
2.Here We Are (for W. Cullen Hart)
3. Unborn
4. Tuesday Moon
5. Ruby Bulbs
6. Snow Song, Pt. 1
7. Aunt Eggma Blowtorch
On Avery Island:
1. Song Against Sex
2. You've Passed
3. Someone Is Waiting
4. A Baby for Pree
5. Marching Theme
6. Where You'll Find Me Now
7. Avery Island/April 1st
8. Gardenhead/Leave Me Alone
9. Three Peaches
10. Naomi
11. April 8th
12. Pree-Sister Swallowing a Donkey's Eye
In the Aeroplane Over The Sea
1. The King Of Carrot Flowers Pt. One
2. The King Of Carrot Flowers Pts. Two & Three
3. In the Aeroplane Over the Sea
4. Two-Headed Boy
5. The Fool
6. Holland, 1945
7. Communist Daughter
8. Oh Comerly
9. Ghost
10. Untitled
11. Two-Headed Boy Pt. Two
Ferris Wheel On Fire:
1. Oh Sister
2. Ferris Wheel On Fire
3. Home
4. April 8th
5. I Will Bury You In Time
6. Engine
7. A Baby For Pree/Glow Into You
8. My Dream Girl Don't Exist (Live)
Holland, 1945
1. Holland, 1945
2. Engine
Little Birds
1. Little Birds (Studio)
2. Little Birds (Live)
You've Passed/Where You'll Find Me Now
1. You've Passed
2. Where You'll Find Me Now
Rate: 10/10